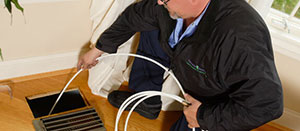 Air ducts are the core of your HVAC system. They allow fresh, clean, climate-controlled air to travel to every room in your home or office. If dirty, they also will circulate airborne contaminants to all of those rooms. That is why air ducts must be cleaned on a regular basis to maintain a healthy living or working environment. Teasdale Fenton can help.
Our IICRC-certified cleaning crews will eliminate dust, dirt and other airborne debris from flowing through your ductwork and triggering symptoms of asthma, allergies and other respiratory health issues for residents. A clean heating and cooling system also will improve efficiency and greatly extend the lifecycle of your HVAC equipment. Our crews employ cameras to check the condition of the ducts before cleaning and to ensure all airborne irritants are removed from your property in the Greater Dayton, OH area.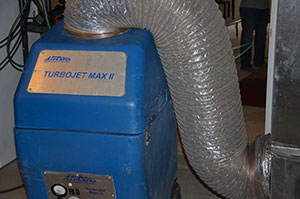 Teasdale Fenton uses only the most advanced H.E.P.A. (High-Efficiency Particulate Air) Filtered Air Duct Cleaning System available. It is designed and manufactured by Nikro Industries, one of the leading manufacturers of H.E.P.A. Filtered vacuum equipment in the United States. All of our equipment meets or exceeds OSHA, EPA, and NADCA Standards while removing dust, dirt, and debris from your ductwork in Dayton, Ohio.
We connect our vacuum system near your furnace, then use a variety of tools to dislodge the contaminants from your air ducts. The powerful vacuum pulls the contaminants out of the ducts and through the filtration system, recycling clean air into your home. Once your system is cleaned, all access holes are resealed, leaving your duct system working like new.