Dryer Vent Cleaning Services in Dayton, Ohio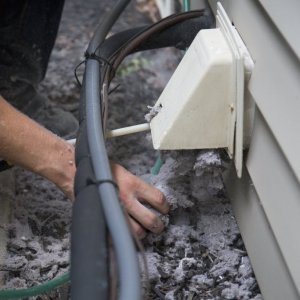 Clogged dryer vents rank among the biggest sources of house fires in America, according to the U.S Consumer Product Safety Commission. Congested vents can trigger an appliance fire that threatens to destroy your home or, at the very least, leave behind significant smoke and soot damages.
It's crucial that dryer vents be cleaned regularly, for safety reasons and economic reasons. The more efficiently a dryer vent exhausts, the less lint collects in the vents, and the better the dryer operates. This means a more energy-efficient dryer will lower utility bills at your home in Dayton, OH.
All of our IICRC-certified cleaning technicians from Teasdale Fenton are equipped with a powerful vacuum to quickly and completely remove hazardous lint build-up in your vents and reduce your chance of starting an unwanted appliance fire. Our company has been helping customers with their cleaning needs in the Greater Dayton, Ohio area for almost two decades. We offer a variety of different cleaning services that includes everything from dryer vents to air ducts to carpets and floors.
Dangers of a Clogged Dryer Vent in Your Home
A clogged dryer vent can lead to serious problems in your home, including an appliance fire. Teasdale Fenton and its professional crews of trained technicians offer preventive maintenance in the form of thorough and extensive cleaning services for your dryer vent.
A clean, functioning dryer vent enhances the performance and extends the life of your dryer. Your unit will use less energy while operating and will not need to run as long to dry your clothes. All of this translates to lower utility bills and more money remaining in your pocket.
When a dryer vent clogs, it can happen for a variety of reasons. Among the most common include: insufficient airflow caused by a dirty lint filter; improper materials placed in the dryer while it is operating; failure of mechanical or electrical parts within the dryer or an incorrect installation that limits airflow of the appliance.
Warning Signs of a Potential Problem with Your Dryer Vent
Some signs of potential issues that suggest you need to call Teasdale Fenton to clean out your dryer vent:
Clothes take longer to dry than expected
Clothes are hotter than usual at the end of the cycle
Flapper on vent hood doesn't open when the dryer is working
If you notice any of these signs, schedule a professional dryer vent cleaning or inspection immediately.
Trust Teasdale Fenton to Unclog Your Dryer Vent
Proper venting materials enhance performance and extend the life of your dryer. When those vents become clogged, compromising the efficiency of your dryer and raising the possibility of an appliance fire, our certified cleaning professionals from Teasdale Fenton can help. Contact us online or give us a call at 937-600-6717 to get a free estimate or learn more about our services to homeowners in the Greater Dayton, Ohio area.