Board Up Services in Dayton, Ohio
Boarding up is an important part of the property reconstruction process when you have been forced into transition mode by an emergency or a natural disaster. Fire damage, water damage, storm damage or the impact of a crime scene could force you to vacate your premises while repairs are being made. To secure and protect your belongings throughout the reconstruction phase, you will need board-up services from Teasdale Fenton. Our IICRC-certified technicians are available on a 24/7 basis to help you rebound from your emergency situation in the Greater Dayton, OH area.
Board Up Assistance We Will Provide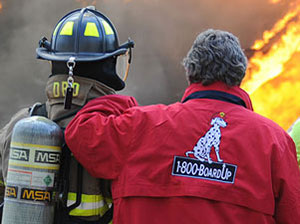 When an accident or emergency prevents you from properly securing your home, you must correct the situation immediately. Whether you have a burglary, storm damage, smoke damages or an indoor flood that prevents you from locking all your doors and windows, you cannot rest comfortably until your home is safe from the elements as well as potential intruders. Because you do not know how long it will take to repair your property when you file an insurance claim, you must contact a professional board-up service for help during the transition period. Teasdale Fenton is the top cleaning and restoration company in Dayton, Ohio and its surrounding communities.
We have been helping homeowners through emergencies with our top-quality cleaning, restoration and board-up services for almost two decades. Our crews are available 24-hours a day, 7-days a week, to help you through any home-related crisis.
Teasdale Fenton Offers a Wide Range of Board Up Services
Has an emergency situation left your home or business open to the elements? Are you being forced to leave your property unattended for an extended stretch? Teasdale Fenton will help you secure, protect and maintain your property long as needed. Call us any time, day or night, when you need: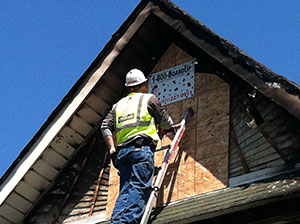 Glass Board-Ups
24/7 Emergency Services
City Ordered Board-Ups
Roof Tarping
Trash Out
Graffiti Removal
Foreclosures
Temporary Fencing
Weed Abatement
HUD/FHA Specs
Debris Removal
Fire Damage
Hoarder Content Removal
Let Teasdale Fenton Help in Your Hour of Need
Everyone deals with an emergency at some point. In your hour of need, rely on Teasdale Fenton for board-up services to secure your home or business in the Greater Dayton, OH area. Contact us at 937-600-6717 to book an appointment, get a free estimate or learn more about our extensive array of services.