Tile, Stone & Grout Cleaning Service in Dayton, Ohio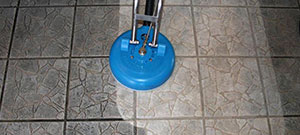 Tile and stone floors enhance the look of any room when they are clean and shiny. When they are not, you will need more than merely a mop to make them sparkle again.
In most cases, dirt and debris set so deeply into tile and stone that cleaning them with conventional methods are ineffective. Teasdale Fenton brings much more than a conventional cleaning approach to the table. Our one-of-a-kind system brings higher pressure and temperatures to the cleaning process to ensure the best results. You'll be amazed by the difference our cleaning approach makes in getting rid of grimy grout and other debris while restoring a sparking, shiny luster to your floor.
Our IICRC-certified technicians will apply a tough sealant to your grout to keep soil and liquids from penetrating. That means no stains, no discoloration and a longer life cycle for your tile or stone surface. When you need your tile, stone and grout cleaned in the Greater Dayton, OH area, your best option is to contact Teasdale Fenton.
Tile and Grout Cleaning
At Teasdale Fenton, we use specialized equipment to clean your stone, tile and grout floors. Our truck-mounted system sprays high-pressure, hot water to remove the debris and the results are impressive. A thorough, high-pressure cleaning will make your dirty, faded tiles come to life again. Once we're finished, you won't see any signs of stains or discoloration.
Tile and Grout Sealing
After your floor is clean, the sealing process is essential. Because grout is porous, it retains dirt, debris, soils and spills. By adding our specialized sealant, on the other hand, your grout becomes more resistant to potential contaminants and allows for better cleaning results in the future.
Stone Floor Cleaning
Travertine, marble, granite and stone flooring provide unmatched beauty to your home or office. That changes when they are dirty. Although stone floors handle spills better than most other types of flooring, they still need professional cleaning, polishing and sealing to maintain their high-end look and appeal.
Teasdale-Fenton is known for its superior tile, grout and stone cleaning services for residential and commercial clients. For hard-surface floors, we will provide:
Tile and stone cleaning
Grout sealing
VCT (vinyl floor) stripping, sealing & waxing
Commercial and residential services
Free on-site estimates
Contact Teasdale Fenton for Tile, Stone & Grout Cleaning Dayton Ohio
When your stone or tile floors get dirty, you will be stunned by the difference our special floor-cleaning service makes for residential and commercial property owners in the Greater Dayton, Ohio area. Contact Teasdale Fenton or call us at 937-600-6717 to make an appointment or learn more about our services. In an emergency, our crews are standing by to assist on a 24/7 basis.