Restoration After Commercial Water Damage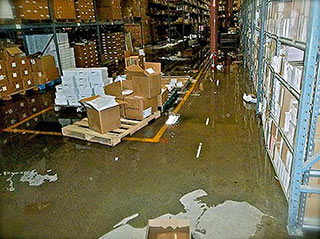 When flooding and water damage occurs in a commercial facility, huge damages and losses are expected. The only choice a business owner has when this happens is to pick up the pieces, restore the facility to its original form, and to move forward. This is a hard pill to swallow, but with the help of the right restoration company, things can get back on track sooner, which can help the business recoup losses faster.
Before restoration work can begin, the company owner must do a few things to ensure that the return to business is as smooth as possible. They also need to act quickly after the damage is done to see if there are any items and assets that are salvageable. Acting quickly will stop further damage from happening, giving the business a bigger chance at a quick recovery.
Handling Commercial Water Damage Effectively
In order to get things back to normal quickly, as a business owner, you need to follow a few steps toward recovery the second you realize you have commercial water damage on the property. These quick steps to recovery include:
Locate the source of water damage – If a water pipe has burst, you need to turn off the water main to stop the flow of water. If the problem is a backed-up sewer system, contact a plumbing specialist that handles such issues. Whatever the cause of the water damage may be, try to get to the root of it and solve it before you do anything else.
Check for structural damage – Have an expert determine if the flooding has affected your building's structural integrity. Assess how bad the damage is, then estimate how long it will take to get things back in order.
Get in touch with your insurance company – Before you move anything or begin cleaning up, contact your insurance agency, document the damage with pictures and lists, and wait for your insurance adjuster to arrive. If you can take videos of the catastrophe, do so. Any form of documentation will help you with the filing of your insurance claims.
Once you have done all of these things, don't clean up or do any repair work just yet. Tape off the area, then tarp and board it up. You need to wait for your adjuster to tell you that it's okay to start restoration work before you start anything. This will help increase your chances of getting the right amount from your insurance company for your repair and restoration needs.
When you can start restoration work, contact a restoration company that you can trust will do a stellar job. If you need help from a company that can guarantee superb results when it comes to water damage restoration and commercial flooding restoration in Dayton, OH, you need Teasdale Fenton Dayton. We are a company with more than 15 years of experience in restoration, remediation, and reconstruction. To find out how we can help, just contact us at 937-600-6717.